Loyola Institute for Ministry
What are you called to?
Vocation is "where your deep gladness and the world's deep hunger meet." Where is that for you? In learning more about faith? Drawing closer to God? Making a difference in the Church and the world?
LIM can help you discern your vocational call affordably. In addition, our courses are inspired by the best in Catholic theology and animated by Ignatian spirituality; they are transformative and practical. Dynamic on-campus and online learning communities make your studies come alive.
As you respond to God's call, you will have the chance to focus your studies in an area of specialization, such as, in Youth and Young Adult Ministry, Religion and Ecology, Religious Education, Spirituality, Digital Culture and Ministry, and more.
Our programs equip you for jobs in chaplaincy, teaching, or church and non-profit work. On their own or as part of dual degrees with Business, Counseling, or Criminal Justice, they can help you see work in any field as a ministry and so help you live out your baptismal call to Christian action that offers hope and healing to a world in such need today.
Faculty Success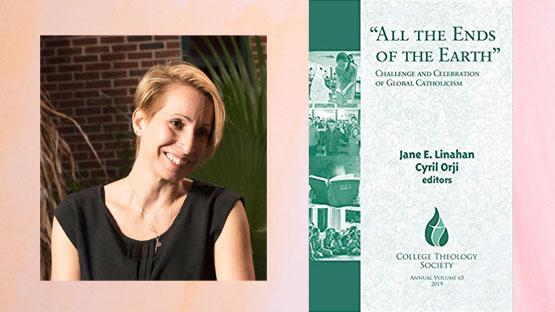 The sixty-fifth annual peer-reviewed volume of the College Theological Society (CTS), entitled All the Ends of the Earth: Challenge and Celebration of Global Catholicism, contains Dr. Lamont's article, "Postmodern Theological Curriculum Theory in a Globalized Context." The volume's Introduction by Jane E. Linaham and Cyril Orji notes that Dr. Lamont's article "raises the important question about the assumptions that underlie even the way we teach Christian theology" and makes the point that "[every] teacher—indeed, every person of faith—needs to be aware of our built-in biases and to make a hospitable place for difference to be honored and respected." Dr. Lamont presented the article at the 2019 CTS Convention in Notre Dame, Indiana in a panel "The Art and Practice of Teaching Theology," before its inclusion in this volume available now from Orbis Books.
---
See all Successes
Student Success
Graduate Rhonda O'Brien (MPS '20), in a partnership with Deb Echo-Hawk and the Pawnee Nation, has been working on the Pawnee Seed Preservation Project, preserving corn and other plants that the Pawnee had once grown in Nebraska before their removal to a reservation in Oklahoma in the 1870s. Since 2003, Rhonda has worked with Echo-Hawk, a team of 17 gardeners, and one farmer to propagate the sacred corn and traditional vegetables. Her work exemplifies care for creation as expressed in Laudato si'; and she credits the first Native American saint, Kateri Tekakwitha—the patroness of ecology and the environment, people in exile, and Native Americans—with guiding her ministry at the Preservation Project and the Conservation Center. 
To learn more GO»
---
See all Successes
Showcase
LIM continues to partner with the Conrad N. Hilton Foundation to support Catholic sisters in Eastern Africa through a grant from the Foundation. This new grant supports the project "Living Charisms for Sustainable Human Development." To learn more, click on the image above.
From June 11 to August 20 at 7 pm, WLAE-TV will air As I Have Done and Sisterhood, produced by Salt+Light TV in collaboration with the Loyola Institute for Ministry. A video greeting from Loyola's President will introduce each episode. Click on the image for more information.