Summer Institute for Catholic Educational Leadership
Save the Date: June 5-6, 2023
Transforming Catechesis: Towards "the Love That Never Ends"
---
​​The Catechism of the Catholic Church states that catechesis is "directed to the love that never ends" (25). Those involved in faith formation encounter church terms like catechesis and evangelization that can often evoke different interpretations for different people. Inspired by the Vatican's most recent Directory for Catechesis (2020), this year's Summer Institute for Catholic Educational Leadership will help you transform your relationship to and understanding of catechesis to see new possibilities, new pathways for families, parents, and the faith community to be involved in the catechetical ministry of the Church.
As a result of attending the Summer Institute, you will:
grow in understanding of the new Directory for Catechesis and what it teaches about faith formation, catechesis, and accompaniment.

see the necessity in yourr own contexts of the accompaniment approach to faith formation.

discern how best to bear witness to Christ to better form your students and families into lifelong disciples.
---
Presenter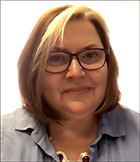 Ela Milewska
Executive Director, Department of Youth Faith Formation
Archdiocese of New York
For more than twenty-five years, Ela Milewska has been blessed to minister in a variety of environments, from a small community in West Virginia to a large parish in Raleigh, NC. She has also served as the diocesan youth ministry consultant for the Diocese of Raleigh. In 1999, Ela joined Cultivation Ministries, a nationally recognized youth ministry training and consulting organization based in the Chicago area. While pursuing her doctorate in catechesis at the Catholic University of America, she also worked as the coordinator for the National Initiative on Adolescent Catechesis. Ela began serving the Archdiocese of New York as the director of the Office of Youth Ministry in October of 2015. She is currently the executive director of the Department of Youth Faith Formation supporting parishes in their ministries to form young people and their families from baptism to twelfth grade.  
Ela has trained youth ministry and catechetical leaders, catechists, and educators across the United States and internationally. In 2016, she was the recipient of the National Youth Ministry Award. You can watch her OSV talk "Catechesis in Small Moments" here.
---
Location and Parking
The Summer Institute is held on Loyola University New Orleans' main campus at 6363 St. Charles Avenue. Sessions will take place in the Audubon Room of the Danna Center. Campus map»
Loyola campus parking facilities will be open with free parking June 5 – 6, 2023 for Summer Institute attendees. Only vehicles with a disabled tag may park in spots designated for disabled parking on campus. Please park in the West Road Garage.
---
Further details forthcoming in March 2023
---
The Summer Institute for Catholic Educational Leadership is co-sponsored by the Archdiocese of New Orleans

Department of Catholic Education and Faith Formation

and the Loyola Institute for Ministry.