Spring Lecture Series
Becoming a Listening Church: The Invitation to Synodality
February 9, March 16, April 20, 2023 ✦ Online ✦ 7:00 pm CT
The 1 hour lectures in this series will explore the how Pope Francis is calling us to practice synodality as a way of being church and will to draw out the theological and practical implications involved in becoming a more synodal church.
---
Online Open House
April 11, 2023 ✦ Online via Zoom ✦ 7:00 pm CT
Join Interim LIM Director Tracey Lamont for an online open house to learn more about our B.A. in Ministry and Theology and master's degrees, as well as our community of learners and scholarship opportunities.
---
The Fr. Ignatius Roppolo Memorial Endowment Presents
Mary Catherine Hilkert, O.P., on Preaching
April 14 ✦ Lecture: "The Joy of the Gospel, the Baptismal Vocation, and the Genius of the Spirit" ✦ 7:00 pm CT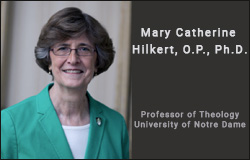 April 15 ✦ Workshop: "Preaching Resurrection Hope" ✦ 9:00 am CT
Both events take place on Loyola's campus and are free and open to the public. One need not attend the preaching workshop to attend the lecture. Registration is required.
Annual LIMEX Dinner
Diocese of Orlando
April 22, 2023 ✦ St. James Catholic Cathedral ✦ 6:00-8:30 pm ET
Come celebrate the LIM program in the Diocese of Orlando! Join Tomás Evans, Orlando's Director of Adult Ministry, Rev. José Bautista, pastor at St. Isaac Jogues, and Tracey Lamont, Interim Director of the Loyola Institute for Ministry as they honor the work of current students and facilitators, graduates, and diocesan staff who support the LIMEX program in Orlando.