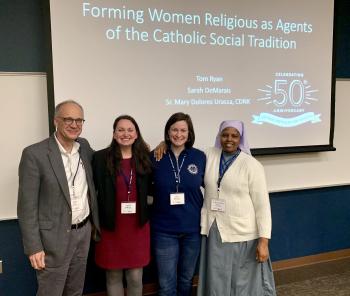 LIM Director Tom Ryan, project manager Sarah DeMarais, and student Sr. Mary Dolores Urassa, CDNK recently presented at the University of Notre Dame's Catholic Social Tradition conference in South Bend, IN.
The presentation "Forming Women Religious as Agents of the Catholic Social Tradition" highlighted learnings and successes of LIM's project "Catholic Sisters in Partnership for Sustainability," funded by the Conrad N. Hilton Foundation. 
Dr. Ryan introduced LIM's method of practical theological reflection. Ms. DeMarais, who is also a graduate student in Loyola's Counseling program, shared learnings from the project, including challenges and opportunities for the empowerment of women religious as agents of CST in East Africa. Sr. Urassa, a Sister of Our Lady of Kilimanjaro from Tanzania, then shared her experiences as a LIM student and her growth in recognizing herself as an agent of social transformation in service of the poor.
Sr. Erin McDonald, CSJ (MPS '18), a participant in LIM's first Hilton-funded project, attended the presentation and shared the powerful impact of the "global sisterhood" she experienced as a LIM student.