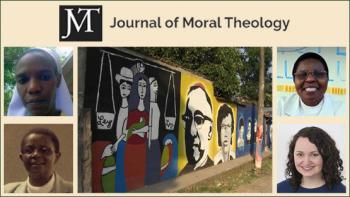 In July 2022, the Journal of Moral Theology (JMT) published a symposium entitled "Teaching Catholic Social Thought" which features articles by three Catholic sisters who studied with LIM thanks to grants from the Conrad N. Hilton Foundation, as well as an article by the grant manager, Sarah DeMarais. 
The editor's introduction reads, in part: "DeMarais's essay describes the model of program development at work at LIM and how its shows respect for the particularity of geographically and culturally diverse contexts through inculturated, adaptable programs which enable the development of living theologians. Her description of how the sisters embody subsidiarity by interviewing wise practitioners as formative witnesses to local knowledge exemplifies how students do not have to abandon the fragments of knowledge they or their communities already hold in order to take hold of the Catholic social tradition" (Jon Kara Shields).
Read Sarah DeMarais's article "'Are We Theologians?': A Practical Theology Approach to Catholic Social Teaching with Women Religious in East Africa" here.
Grouped under the heading "Pedagogical Reflections by East African Women Religious Alumnae of the Loyola Institute for Ministry," Sr. Charity Bbalo, Sr. Lucy Raphael Kimaro, and Sr. Jane Frances Mulongo each author an article describing transformative projects for sustainable development inspired by their study of Catholic social teaching. These sisters earned LIM's Certificate in Catholic Social Teaching and Certificate in Theology and Ministry through participation in two Hilton Foundation-funded projects, Catholic Sisters in Partnership for Sustainability and Living Charisms for Sustainable Human Development. Read their articles here.
Photo: Pictured are, clockwise from top left, Sr. Charity Bbalo, Sr. Jane Frances Mulongo, Ms. Sarah DeMarais, and Sr. Lucy Raphael Kimaro.