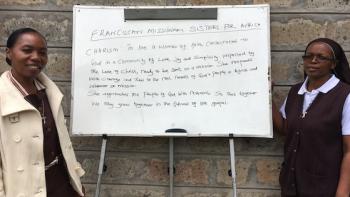 Two Loyola students are Franciscan Missionary Sisters for Africa, Kenyan natives currently ministering to internally displaced persons (IDPs) in Wau, South Sudan. Sr. Anne Mbithi Wandia and Sr. Leonidah Mokua, along with many other women religious serving in South Sudan, foster hope for survivors of tremendous violence, trauma, and disruption.See the Global Sisters' Report story on their congregation's work. 
Sr. Leonidah works in health care, while Sr. Anne serves as a teacher. Sr. Anne's education ministry is inspired by her belief that "displaced persons are created in the image and likeness of God." She strives to show "love, compassion, and mercy," to "witness to Gospel values," to "preach a message of peace." Sr. Anne sees her work to empower displaced persons as connected to the Church's "prophetic role to condemn and address injustice."
Catholic sisters in Wau work both inside and outside camps for displaced persons to create healing spaces. They engage in the following ministries:
Providing health services and health education
Providing quality education and educational materials
Sharing emergency food relief
Psycho-social programming, including trauma counseling
Justice and peacebuilding programs
Managing microfinance groups to empower women and young people and build capacity for economic engagement
Challenging cultural practices of early marriage that exploit young girls
And providing pastoral programs and spiritual nourishment, especially with regards to forgiveness and reconciliation
Sr. Anne and Sr. Leonidah are studying towards LIM's Certificate in Catholic Social Teaching. Sr. Anne notes, "My [LIM studies have] equipped me with a lot of knowledge, wisdom, understanding and inspiration about God, self, others and his creation and how to respond with compassionate love in bringing the reign of God on earth. The course has enriched my ministry, especially giving insights on how to partner with others and so as to be life-giving to the poor and marginalized in South Sudan."
For more information about the project they're involved with, see "Catholic Sisters in Partnership for Sustainability."