Study Religion and Ecology at Loyola
About the Thomas Berry Project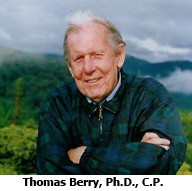 Because of her interaction with Passionist "Ecologian" Fr. Thomas Berry beginning in the early 1990s, Professor Kathleen O'Gorman was a forerunner in highlighting the centrality of creation for practical theology, pastoral studies, and religious education.  As a result of her association with him, Loyola has in its archives hours of videotapes and pages of writings that are begging to be disseminated to a world in need of the challenge and wisdom that Thomas Berry still has to offer.
Will you assist us in raising $30,000 to support the legacy of Professor Kathleen O'Gorman and the work of Thomas Berry at Loyola? This money will fund:
Digitization of select Thomas Berry material from Loyola's Special Collections & Archives through an outsourced film digitization vendor to ensure the quality of the videos to archival standards.

Cataloging of videos, by Loyola's Monroe Library staff, into the Louisiana Digital Library for online dissemination.

A film editor to produce videos from the digitized material for classes and retreats.

Development and dissemination of a User's Guide as a resource for research, lesson plans, personal growth, etc.

Scholarships for graduate students to take LIM's Religion and Ecology focus area courses.

An ad campaign to alert the wider public to these valuable resources and opportunities.
 To contribute to this campaign, please go to the following website and alert others to do so as well:  giving.loyno.edu/berrylecturefund.  
If you can lend your time or talent to this project or if you have any questions, suggestions, or comments about it, please do not hesitate to contact us: lim@loyno.edu or (504) 865-3728. 
In His Own Words
Watch this video of Thomas Berry to learn more about his understanding of personal spirituality and fulfillment.
---
Thomas Berry: Life, Work, and Legacy
Read Dr. Kathleen O'Gorman's reflections on Thomas Berry GO»
Reflections with the words of Thomas Berry developed in honor of the 50th Anniversary of Earth Day GO>>
More Information on Thomas Berry
Donate
Please support the Work of the Thomas Berry Project and the Development of the Thomas Berry-Kathleen O'Gorman Collection. GO>>