Summer Institute for Catholic Educational Leadership

Journeying the Way Together, Enhancing Spiritual Leadership
June 6-7, 2022
Presenter • Location & Parking • Schedule • Cost and Registration• More Information • Save the Date Postcard • Flyer 
Introduction
Through the ages, the life of faith has often been depicted as a pilgrimage and the faithful person a pilgrim, the Latin word for which literally means "one on the way" or "wayfarer." As suggested by the encounter with Jesus on the road to Emmaus, journeys are best undertaken together and involve a willingness to listen and learn. This is the vision that informs a journey the Catholic Church is undertaking today called "synodality."  
Our 15th annual Summer Institute for Catholic Educational Leadership takes place in person at Loyola and joins with the Church around the world and through the ages in the journey of synodality. Inspired by this vision that draws on the wisdom of Catholic tradition and invites participants to imitate Jesus (who describes himself as the Way), attendees can grow into more faithful and effective leaders in Catholic education and faith formation. 
As a result of participating in the Summer Institute, participants will
be inspired by the life and teaching of Jesus in their education ministry  

learn about Pope Francis's vision for the Church and its implications for their ministries

learn about and practice the synodal process 

discern practical next steps for their roles as leaders

enhance their own spirituality

be better able to achieve national standards for effectiveness and competence in education and formation

enjoy a concluding lunch at renowned New Orleans restaurant Dooky Chase
---
More on Synodality
Synod comes from a Greek word that means "on the way" or "journeying together." This process involves three steps–encountering (being fully present to others), listening (really listening to others and with others, not hurrying to offer solutions), then discerning a course of action together (listening to what the Holy Spirit is saying to us through these encounters). This is exactly the kind of actions that should inform the work of spiritual leaders. 
Synodality is a way of being with one another, of practicing community, and forming missionary disciples. The synodal process offers spiritual leaders a way to reconnect with students, families, parishioners, and one another to help reignite our Baptismal calling to bring the Gospel of love, mercy, compassion, and justice more fully into the world.
---
Presenter & Facilitator: Tracey Lamont, Ph.D.
Nationally-recognized Expert in Synodality and Young Adult Ministry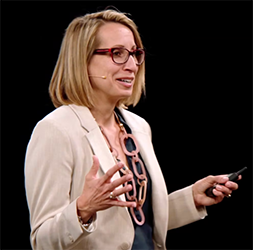 Tracey is Director of the Loyola Institute for Ministry and an Assistant Professor of Religious Education and Young Adult Ministry at the Institute. From 2017-2021, Tracey served as the Vice Chair of resources for NATYAM and is currently a member of the Board of Directors for the National Institute for Ministry with Young Adults (NIMYA). Tracey regularly hosts and facilitates synodal listening sessions with ministry leaders and young adults locally and nationally.
---
Location and Parking
The Summer Institute is held on Loyola University New Orleans' main campus at 6363 St. Charles Avenue. Sessions will take place in the Audubon Room of the Danna Center. Campus map»
Loyola campus parking facilities will be open with free parking June 6 – 7, 2022 for Summer Institute attendees. Only vehicles with a disabled tag may park in spots designated for disabled parking on campus. Please park in the West Road Garage.
---
Schedule
All times are US Central time.
Monday June 6: Encountering, Listening
| | |
| --- | --- |
| 7:30-8:30 am | Registration and Breakfast |
| 8:30 am – 9:00 am | Morning Prayer |
| 9:00 am – 12:00 pm | Encountering |
| 12:00 pm – 1:00 pm | Lunch |
| 1:00 pm – 3:00 pm | Listening |
| 3:00 pm – 3:30 pm | Snoballs and Conversation |
Tuesday June 7: Discerning
| | |
| --- | --- |
| 8:00 am – 8:45 am | Mass in Ignatius Chapel, Bobet Hall |
| 8:45 am – 9:15 am | Breakfast |
| 9:15 am – 11:45 pm | Discerning and evaluation |
| 11:45 pm | Leave campus for closing luncheon |
| 12:30 pm – 1:45 pm | Closing Luncheon at Dooky Chase Restaurant |
---
Register
Registration has closed for the 2022 Summer Institute.
---
More Information
Credit is available from the Archdiocese of New Orleans for Parish and School Catechetical Leaders (SCL & PCL) and school principals who attend the Institute. For more information contact the Department of Catholic Education and Faith Formation (504-866-7916 or mwhitehouse@arch-no.org).
For questions about the Summer Institute, contact Dr. Tom Ryan at tfryan@loyno.edu.
The Summer Institute for Catholic Educational Leadership is co-sponsored by the Archdiocese of New Orleans

Department of Catholic Education and Faith Formation

and the Loyola Institute for Ministry.