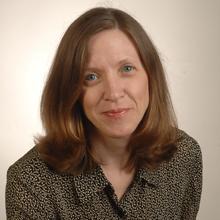 Jennifer creates and maintains digital content for the Loyola Institute for Ministry's web pages and social media accounts. In addition, she manages the Institute's courses in the Canvas LMS, updating and deploying them each semester, as well as manages media in Kaltura. She  In her work as a writing consultant, she updates LIM's Guide to Written Theological Reflection and assists graduate students in the LIM extension program by editing and giving feedback on drafts of their course papers.
She occasionally teaches courses for the English Department focused on expository and argumentative writing.
Jennifer is also a freelance professional copy editor, having most recently completed work on Gerald Steinacher's Humanitarians at War: The Red Cross in the Shadow of the Holocaust (Oxford University Press, 2017) and the New England Journal of Public Policy's special volume "Social Traps and Social Trust" (Spring 2020, vol. 32, issue 1).
LIM Social Media Accounts
Awards
College of Nursing and Health Staff Excellence Award 2021
College of Social Sciences Staff Excellence Award 2016
Degrees
M.F.A., University of Houston; B.A., Tulane University