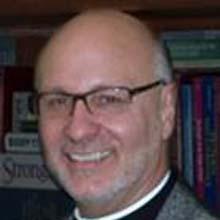 Rev. Benjamin A. Berinti, CPPS is a Missionary of the Precious Blood & currently serves as the Pastor of Immaculate Conception Church in Melbourne Beach, FL.  Until recently, Fr. Ben served as Dean of the Catholic Center & Director of Catholic Campus Ministry at the University of Central Florida in Orlando, FL.
Previous ministry assignments have included the San Pedro Retreat & Renewal Center in Winter Park, FL & Co-Director of the Lay Ecclesial Ministry Program in the Diocese of Orlando. He has served as Chaplain-Coordinator of Campus Ministry and Assistant Professor at St. Joseph's College in Rensselaer, IN, as Adjunct Faculty in Religious Studies, Associate Campus Minister, and Assistant Director of Residential Life at St. Xavier University in Chicago, IL, and as the Project Director at the Pastoral Ministry Institute at St. Xavier University. He also spent three summers as an Adjunct Associate Professor at the Institute for Pastoral Ministries, St. Mary's University of Minnesota, in Winona. He has been a pastor of two parishes in the Orlando Diocese, and Director of Theology Formation for the Missionaries of the Precious Blood at the Catholic Theological Union in Chicago.  
Fr. Ben has served Loyola University New Orleans as an adjunct professor for both LIMEX & on-line learning for 10 years.
Fr. Berinti is a contributing writer for the Sunday Word in the Florida Catholic, and has been recognized as a Catholic Press Award winner for his columns. In 2011, Fr. Berinti published his book Firestarters: For the Seasons of our Life, a collection of of spiritual essays, and in September 2012, he followed with Tucked in the Rocks: Life Lessons from the Land of Enchantment.  His newest book, Stooping Down: Getting Close Enough to See, was released April 2017.   
Degrees
Ph.D., Boston University School of Theology; M.Div., Catholic Theological Union
Classes Taught
Introduction to Practical Theology
Parish Life and Ministry