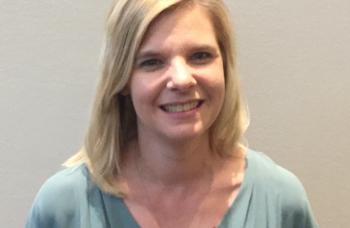 Congratulations to Susie Vollenweider, MPS '19, for receiving the Loyola Institute for Ministry Scholar Award! 
The Loyola Institute for Ministry Scholar Award recognizes excellence in Scholarship, Leadership and Service in a graduate from the Loyola Institute for Ministry.
In the final project for her Master of Pastoral Studies, Susie focused on adolescent spiritual direction. She drew on her own experience of motherhood to discern the needs of adolescents: "having two teenage daughters, a pre-teen son, and a 10 year son, I understand the importance of having open conversations with them regarding their faith as they begin to search for truth and meaning in their lives." 
Through research, Susie recognized that adolescents need spiritual guidance both from their parents and from other wise mentors. She writes, "adolescent spiritual direction or companionship does not have to be confined inside the church walls but rather through intergenerational relationships that exist in our everyday lives. These relationships are essential to an adolescent's life in the faith."
Reflecting on her time with LIM, which she calls "a true blessing," Susie notes, "I was able to grow in my faith through inspiring professors, a rich academic curriculum, and a diverse LIM student body. I greatly value the relationships that I formed with all people associated with the LIM program not only locally but also from all parts of the world. I am able to take what I have learned in the LIM program to develop a stronger faith and more meaningful relationships with people I encounter."