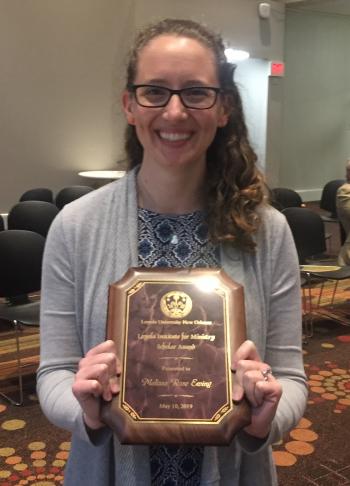 Congratulations to Melissa Ewing, MPS '19, for receiving the Loyola Institute for Ministry Scholar Award! 
The Loyola Institute for Ministry Scholar Award recognizes excellence in Scholarship, Leadership and Service in a graduate from the Loyola Institute for Ministry.
Melissa's final project for her degree focused on the faith development of mothers in her parish community. She worked to help mothers develop spiritual agency by connecting their vocation with the motherhood of the Holy Trinity.
Reflecting on her studies with LIM, Melissa writes, "The trajectory of my life has changed drastically because of the spiritual and intellectual development I have undertaken at LIM, with the invaluable community of my professors and my fellow students."
Melissa particularly values the spiritual formation integrated throughout LIM's coursework, describing her practice of Ignatian spirituality as "like breathing in and breathing out, in an unending rhythm of contemplation and action. Drinking richly from the cup of Ignatian life in God, I have cultivated skills that have opened up entirely new pilgrimages in my life." 
As a Loyola graduate, Melissa will continue to apply LIM's method of practical theology in her ministry.  She reflects, "LIM's practical theological model, the insistence that holy work and holy knowledge go hand-in-hand, has most specifically shaped my view on the vocation of motherhood and inspires me to bring what I have learned and experienced into the larger Catholic community."