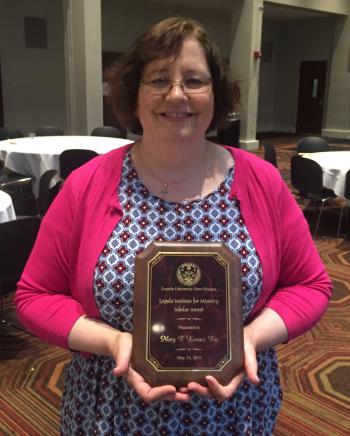 Congratulations to Mary F. Kovacs Foy, MPS '19, for receiving the Loyola Institute for Ministry Scholar Award! 
The Loyola Institute for Ministry Scholar Award recognizes excellence in Scholarship, Leadership and Service in a graduate from the Loyola Institute for Ministry.
In her final project, Mary addressed the pastoral concern of families delaying their child's baptism. Mary explored the complex theological, socio-cultural and practical concerns that may factor into families' decisions. In light of this complexity, and recognizing that delaying baptism can at times separate the family from the sacramental and liturgical life of the Church, Mary advocates for pastoral responses tailored to the unique circumstances of each family, parish, and diocese.
Mary notes that through her LIM studies, "I have found strengths I never knew I had, and a determination for this work that I did not appreciate before."
She values the flexibility afforded by online courses, which allowed her to continue her ministry and education while being with her family, and growing as "a pastoral associate and a person" in conversation with students around the world.
Mary reflects, "Professionally, my work at LIM has opened many doors for me to minister in different ways, most recently as a writer and speaker, and a presenter for retreats and workshops. As a woman in the Church, these are not always easy paths in my area, but having this education and knowledge has helped me overcome many obstacles and do the work I feel I was truly called to do."