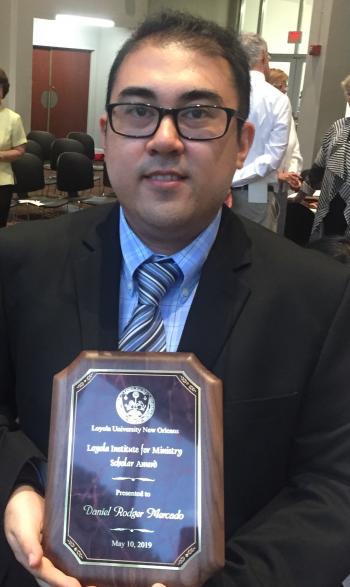 Congratulations to Daniel Mercado, MRE '19, for receiving the Loyola Institute for Ministry Scholar Award! 
The Loyola Institute for Ministry Scholar Award recognizes excellence in Scholarship, Leadership and Service in a graduate from the Loyola Institute for Ministry.
In the final project for his Master of Religious Education, Daniel confronted the challenge of families disengaging from parish life after sacramental preparation and reception. He learned that for his parish's children and their families, "evangelization needs to precede catechesis. They need to first have an encounter with Christ and form a relationship with him before they can come to learn and grow in their knowledge of the faith."
Daniel writes, "In ministering to a predominantly Hispanic community, I realized the importance of providing a sense of welcome, hospitality, and relationship to the children and families I encounter in the religious education program and the parish. If they do not feel a sense of connection and relationship, they are less likely to remain involved in our faith community." 
Community is something that Daniel experienced himself through LIM. He reflects, "It was a blessing to be a part of a learning community where we all supported each other in our different ministries and brought in our different perspectives that enabled us to grow in our faith and practice of ministry."
He also valued LIM's opportunities for prayer and reflection, and appreciates how the LIM method of practical theological reflection empowers him to consider complex dynamics involved in ministry.
Daniel reflects, "The LIM program has led me to become a better CRE and minister by giving me the opportunity to expand my faith, to learn new skills and approaches to ministry, and to grow in my relationship with Christ as I walk on my journey of faith. The program has also led me to become a better disciple of Christ by coming to a more profound understanding of the pillars of our faith, Scripture and Tradition, as well as the vocation he has placed in my life."