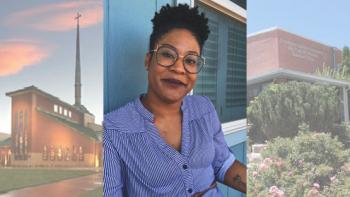 Brandy Burgess, who graduated with her Master of Religious Education degree in 2019, will be putting her degree to work as she embraces two new positions. Brandy was hired as the Education Technology Specialist for Bishop Manogue Catholic High School in Reno, NV. As Ed Tech, she will be facilitating the school's 1:1 transition. Beginning with the freshman class, students will engage with class materials via their own personal device. An eventual goal is to offer courses for students online.
In addition to her work at Bishop Manogue Catholic High School, Brandy was also hired as the Director of RCIA for Our Lady of Wisdom, Newman Center at the University of Nevada, Reno, where she previously had been volunteering. 
Brandy notes, "LIM has equipped me with the ability to apply Religious Education to interdisciplinary work, revealing how our understandings of faith intersect in ways I had not previously considered, but am now able to apply to my career and the communities I serve."