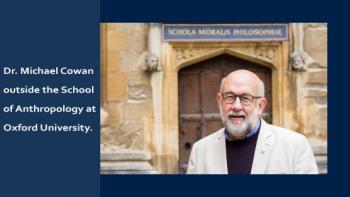 Michael A. Cowan, Ph.D., will be engaged in a collaborative project in the Centre for the Study of Social Cohesion (CSSC) in the School of Anthropology & Museum Ethnography at Oxford University which has recently appointed him a Research Affiliate. This project will build upon his study of how communities facing deep conflict—which is characterized by distrust and power imbalances and structured along racial, ethnic, religious, national, and class divides—are able to cross group boundaries to address chronic conflict. He and Professor Harvey Whitehouse, Director of CSSC at Oxford, will collaborate to examine two forms of leadership in divided communities. 
Having spent 25 years as a leader and scholar of interracial and interfaith community organizing in the United States, Dr. Cowan's most recent appointment reflects his deepening engagement with global and interdisciplinary inquiry into group identity, conflict, leadership, and conflict resolution. He is also a Senior Fellow in the Centre for the Resolution of Intractable Conflict in Harris Manchester College in Oxford University, and a Visiting Research Associate in the Irish School of Ecumenics, Trinity College Dublin, where he teaches in the area of Jewish/Christian relations.
At the Loyola Institute for Ministry, Dr. Cowan teaches the Jewish Roots of Christian Faith, Pastoral Care, and courses in the Small Christian Community Focus Area.  In Summer 2019, he will teach The Public Life of Small Christian Communities.