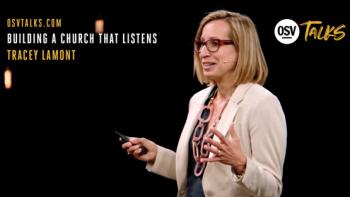 Dr. Tracey Lamont is passionate about the powerful effects deep communication can have on individuals and organizations, and she is equally committed to the importance of effective ministry with young adults. These two areas of concern come together in her OSV Talk "Building a Church That Listens," published online in February 2022. To watch GO»
Dr. Lamont's talk is premised on the idea that missionary discipleship calls leaders to set aside what is comfortable and envision what is possible when it comes to serving the needs of young adults. If the Church truly wants to meet the needs of young people and invite them back, a new ecclesial imagination, or a new way of being church, is needed to form authentic community surrounded by real listening and dialogue.
OSV Talks is a series of professionally-produced talks from prominent Catholic leaders aimed at igniting innovation and creativity in ministry and evangelization. Its goal is to spark discussion, explore new, or re-explore old approaches, and inspire creative thinking, all from the heart of the church. This series features topics such as entrepreneurship, design-thinking, and new approaches for reaching a new generation in the Church.