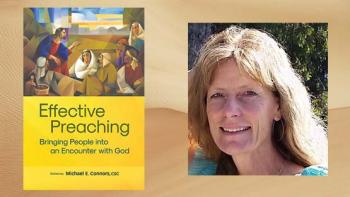 LIM graduate and adjunct faculty member Dr. Deborah Wilhelm has authored a chapter in the new book Effective Preaching: Bringing People into an Encounter with God. The book grew out of presentations at the 2017 Marten Preaching Conference at Notre Dame. Her contribution is entitled "'Murder Your Darlings': How to Edit for Effective Preaching." The quotation in the title is a reference to the writing advice Sir Arthur Quiller-Couch delivered in a lecture at Cambridge University. 
The book itself is edited by Michael E. Connors, CSC, the Director of the John Marten Program in Homiletics and Liturgics at the University of Notre Dame, and it offers everyone from RCIA catechists to priests creative and practical techniques and advice to transform one's preaching from serviceable to spectacular.  Learn more»
At LIM, Dr. Wilhelm teaches courses including the electives Sharing the Word and Jesus and the Christian Tradition, the focus course Spirituality for Ministers, the core theology courses Introduction to Practical Theology; Grace, Christ & Spirit; and Church, Sacraments, & Liturgy, as well as the capstone course Pastoral and Educational Praxis. We congratulate her on this contribution to sharing effectively the Word of God.