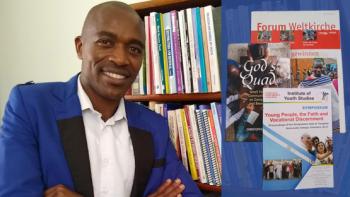 Born and raised in Kisii, Kenya, Alloys Nyakundi came to study at the Loyola Institute for Ministry at Loyola University New Orleans because of his passion for leading and promoting Young People Small Christian Communities, or YPSCCs, in the nine countries of Eastern Africa where he was working with AMECEA Pastoral Department. During his undergraduate studies at Kenyatta University in Nairobi, Alloys gained valuable insight into the needs of Eastern African youth and how they can be met through YPSCCs. In a recent trio of publications, he shares that insight as it has been informed by his experiences and his studies. 
The article "Youth Small Christian Communities: Creating the Path by Walking" appears in Young People, the Faith and Vocational Discernment (Institute of Youth Studies, Nairobi, Kenya, 2017) , which contains the proceeds of a symposium held at Tangaza University College in Nairobi, Kenya, in February 2017. His contribution explores how YSCCs help young people to connect their faith to their lives, discover their vocation, and create meaningful community, and he encourages more parishes to develop YSCCs.
Alloys also co-authored the chapter, "We Create the Path by Walking: Youth Small Christian Communities in Eastern Africa," which is found in God's Quad: Small Faith Communities on Campus and Beyond (Orbis 2018). The chapter shares several case studies highlighting the experience of young people in various YPSCCs in Eastern Africa.
Finally, "Neue Wege schaffen: Klein Christliche Jugendgemeinschaften in Kenia" examines YPSCCs in Kenya; it appears in the journal Forum Weltkirche (July / August 2018) in an issue devoted to "Die Jugend gewinnen," literally, "how to win the youth."
All these publications focus on Alloys' belief in the importance of working together as a team, which is summed up in the Ugandan proverb, "One hand washes the other hand." People who want to learn more about the YPSCCs ministry can visit the Smaill Christian Communities Global Collaborative Website GO»
In addition, two Facebook pages offer more information: