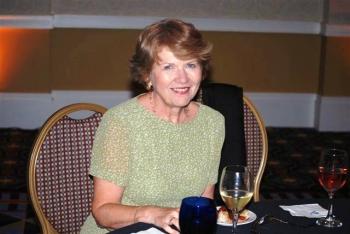 When I first thought about the LIMEX program, I wondered what I would do with a Master in Pastoral Studies.  My parish's pastoral associate knew I was considering job choices with that degree.  She knew I was also thinking about closing a business I had for over 25 years.  Not knowing where this journey would lead me, I decided to take a leap of faith and started LIMEX in 2002.   About half way into the program our class was told to choose a focus course.  There were so many that interested me, but marketplace ministry really got my attention. 
The business I had was a Hallmark store.  When I started to think about  marketplace ministry, I realized I had been doing ministry in my job almost on a daily basis!  Often my customers would share why they were buying a particular card or gift.  Sometimes it was because a friend or relative had just passed, and I would offer words of comfort and hope.  One time a woman came in to buy balloons.  She shared that her sister had just committed suicide, and the balloons would be released in her honor as part of her service.  I invited her to come back with her parents, and we talked for a long time about their tragedy.  There were many other occasions to be able to share God's love.
LIMEX opened my eyes not only to ministry in everyday life but also to justice work.  I became active in a grassroots movement for affordable housing (Empower Hampton Roads) through my parish, working with other churches in the Tidewater area.   Because of that, when I closed my store, I became a Realtor.  I was able to continue my new ministry as I became active in the Realtor's Board for Affordable Housing.
When it came time to write my final paper, my title was "Presence of the Moment in Everyday Life."  I wrote 40 pages on how you don't have to be in the church to minister to people.  All I have to say is that God has a sense of humor.  Right after I submitted my thesis, my pastoral associate recommended me to another Catholic church that was looking for a Justice and Peace Minister.  I was hesitant to talk to them, but I went to the interview.  They offered me the job on the spot!  I did say no at first because I was convinced I should be "out in the world."  Five days later, they called me again, and by that time "Catholic guilt" had set in.  I discerned that God really wanted me to take this position.  So here I am, five and a half years later.  I do not only justice and peace work (over 20 ministries), but I am also in charge of the funeral ministry and do a lot of pastoral work. 
I guess the moral of my story is that you may think you have a plan for your life and how you answer God's call, but be open to the whispers like Elijah in 1 Kings 19!