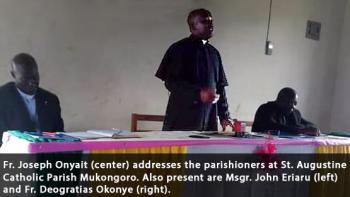 Fr. Joseph Onyait, who has studied at LIM focused on Small Christian Communities, embarked on an ambitious plan to train facilitators in the Diocese of Soroti in Uganda so that they might lead Small Christian Communities in their parishes. He helped to create a plan to train catechists, Parish Council members, and parish priests, among others, and presented it to the Bishop of Soroti, Rev. Dr. Joseph Eciru Oliach.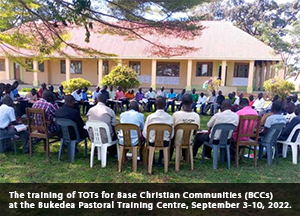 The "Training of Trainers" (TOTs) phase of the program occurred in fall 2022. Their training concluded with a Eucharistic Celebration and commissioning ceremony presided over by the Vicar General Soroti Catholic Diocese, Msgr. Robert Ecogu and concelebrated by the Directors of BCCs in the Diocese and the parish priest of St. Therese of the Child Jesus Bukedea. Additional trainings followed.
 
Fr. Onyait currently serves at St. Augustine's Parish Mukongoro in the Kumi Deanery in East Uganda where he continues his work to promote and sustain SCCs in Uganda.