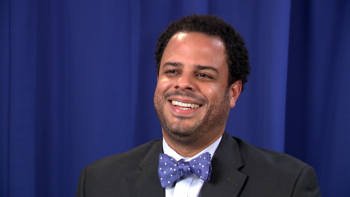 LIM encourages students to connect their studies to practical concerns, and Grant Tregre has done so in all his coursework.  His study of the system of mass incarceration and its impact on African Americans led him to develop a New Jim Crow Ministry in St. Gabrield the Archangel Parish in New Orleans.  Its purpose is to increase awareness of the harmful impacts of the Prison Industrial Complex, encourage solidarity with those who are most affected by the system, and implement Christian-based action toward eradicating systematic exploitation within the criminal justice system.
One of the successes of this new ministry has been its act of solidarity with Jerome Morgan who grew up near St. Gabriel Church and who was wrongfully convicted at the age of 17 for a crime he didn't commit.  He spent 20 years in Angola Prison but was released when key witnesses recanted their statements and indicated that police initially pressured them.
For the past two years and since his release from prison, Jerome has been in and out of court.  Members of the New Jim Crow Ministry supported Jerome at several of his hearings.  After a difficult legal battle, the Innocence Project of New Orleans recently convinced the New Orleans District Attorney to drop the case. The ministry
continues to pray with Jerome in this time of transitioning back into society.
The New Jim Crow Ministry has also reflected on reports and videos from the Equal Justice Initiative and attended the Black Lives Matter Summit at Xavier University New Orleans.  It is also planning a review of Michelle Alexander's book The New Jim Crow.
Congratulations to Grant on his important work!