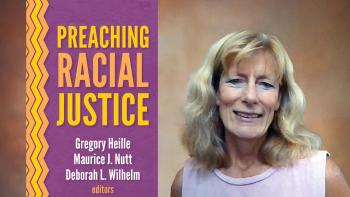 Dr. Deborah Wilhelm, adjunct faculty at LIM, celebrates the publication of Preaching Racial Justice, a volume she co-edited with Rev. Gregory Heille, OP, and Rev. Maurice Nutt, CSsR (Orbis Books 2023). The book responds to the need for Christian antiracism preaching. It can be used as a handbook for preachers, but is also a resource for discussion groups among congregations that are looking for insightful theological and practical ways of understanding race, racial justice, white supremacy, white privilege, white fragility, racial oppression, black suffering, #blacklivesmatter, and racial and personal reconciliation and healing, or that are beginning the process of dismantling racism within the church and society.
In addition to writing the introduction to Part III, Ancestors and Stories, Dr. Wilhelm also penned the chapter "A Holy and Sacred Journey."
Deborah Wilhelm codirects the Aquinas Delaplane Preaching Initiative and is also an adjunct professor of preaching and evangelization at Aquinas Institute.