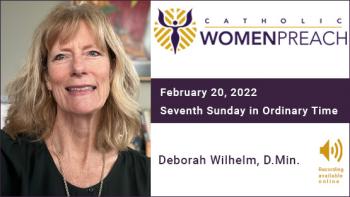 LIM graduate and adjunct faculty member Deborah Wilhelm, D.Min., is featured on Catholic Women Preach, a project whose aim is to share thoughtful, theologically grounded, and accessible preaching by women who are responding to Pope Francis' call for the baptized to be more engaged in the Church's preaching mission. View the video GO»
Deborah's brief video focuses on the Old Testament reading for February 20, 2022: Chapter 26 of 1 Samuel. In First Samuel, stories of the prophet Samuel, the doomed King Saul, and King David chart the beginning of Israel's monarchy. In this reading, David and Abishai enter Saul's camp under the cover of darkness and find him sleeping with his spear in the soil near his head and his soldiers asleep as well. Abishai suggests killing Saul with his own spear, and David must decide what he will do.
Deborah's preaching examines this reading in light of our contemporary experience and teases out its wisdom for us today.