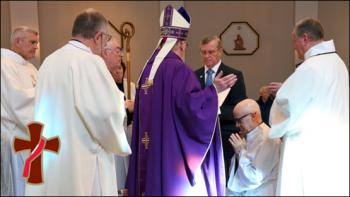 On March 19, 2023 in the Diocese of Portland, ME, Daniel Maloney, C.P.S., was ordained by Bishop Robert Deeley in a ceremony held at St. Martha Church in Kennebunk. Read about Daniel's journey and his ministry helping people overcome substance use here.
When sharing the news of his ordination with LIM faculty member Dr. Tom Ryan, Daniel noted that LIM "empowered me to complete the academic task and ultimately formation for the Diaconate." 
Below is a video of Daniel's ordination.