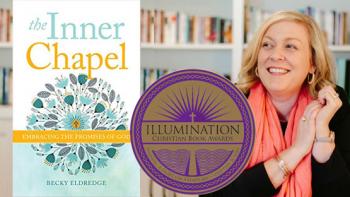 Becky Eldrege's The Inner Chapel: Embracing the Promises of God (Ignatius Press, 2020) was recognized by the Illumination Awards with a Gold Medal in the category of Spirituality. The Illumination Awards annually recognize the best Christian books. These winners come from well known publishers and independents with a passion for the Word. 
In The Inner Chapel, Becky draws upon her training in pastoral studies and her ministry as a spiritual director and retreat facilitator to assist readers in developing a richer prayer life and drawing closer to God.
Embracing an Ignatian spirituality which sees God as present and acting in our lives, Becky helps the reader to be more attentive to God's presence through prayer and to create a relationship with God in response.
To learn more about Becky and her ministry GO»