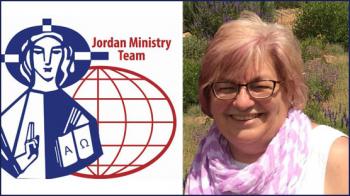 Karen Brady, MRE, is a member of the Jordan Ministry Team in Tucson, Arizona. While this ministry has been offering adult formation programs for close to twenty years, due to the Covid-19 pandemic and its effects on her ministry, Karen has marveled, "Who knew Zoom would be the new evangelization tool that it has become?! Jordan Ministry Team has moved from a local adult ed ministry to a more global ministry."
Karen plays a role increating the programming, retreats, and other spiritual enrichment experiences offered by the Jordan Ministry Team, which includea Thursday Faith Exploration Group and September 2020 offerinings auch as an online workshop "Laudato Si': On the Care of Our Common Home"; a series "The Genius of Women: Holy Women in the New Testament"; and an eplxoration of Images of God.
Click the photo above to read more about Karen and her ministry.