School of Nursing Facilities
The Loyola University New Orleans School of Nursing provides nursing students access to a state-of-the-art facility to enhance their learning and gain practical hands-on experience practicing skills in a safe, controlled environment.
---
Loyola Ochsner Nursing Simulation Lab
Located on the fifth floor of Monroe Hall, the Loyola Ochsner Nursing Simulation Lab allows students to practice clinical skills, make errors in a safe environment, and gain confidence in their nursing practice. Connecting theory to practice, nursing students learn by doing and develop essential critical thinking skills.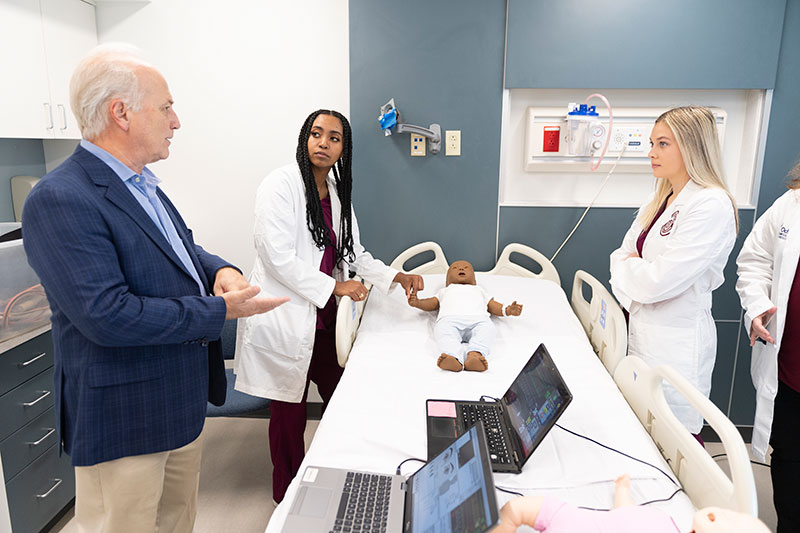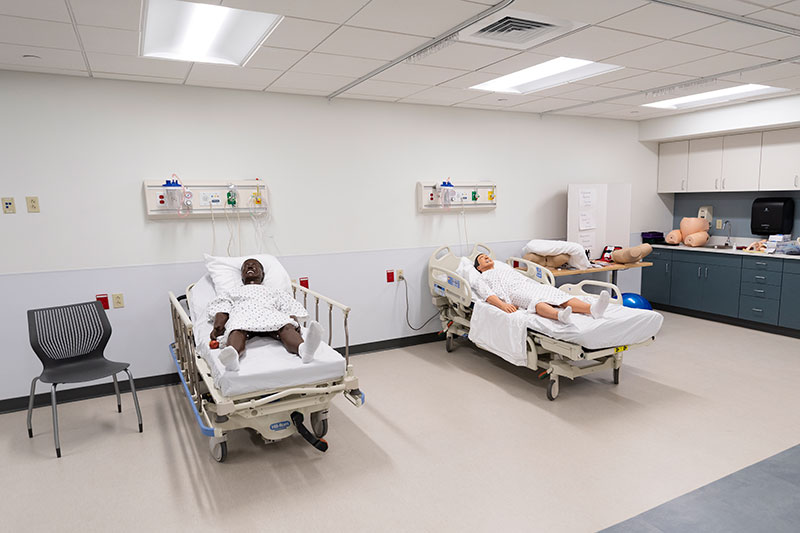 The 6,600 square-foot simulation space recreates the experience of working in a real healthcare facility, with observation areas and debriefing rooms for students to reflect and learn from each other. Students engage in immersive scenarios, sometimes with students of other professions, where they must work together to provide excellent, evidence based care.  
The simulation lab provides a combination of both low- and high-fidelity technology, including wearable learning devices and responsive mannequins. Instructors guide students through hands-on experiences, providing feedback throughout the process, and allowing students to master skills before practicing them in a real clinical environment.
---
The Sim Lab in Action
Students practice basic nursing skills—like taking a blood pressure and inserting an intravenous line—in a safe environment where they can learn from mistakes without risking injury or harm to a real patient.

Lifelike high-fidelity mannequins respond to care, improving or deteriorating depending on the student's intervention.  

Wearable learning devices allow students to practice skills such as how to insert a urinary catheter as well as afford them the opportunity to practice working with patients in vulnerable scenarios. 

Students hone skills such as cardiopulmonary resuscitation (CPR), heart and lung sound assessment, and participate in common clinical scenarios like those including excessive blood loss, cardiac arrest, and stroke.

Including patient actors (called standardized patients) in scenarios allows students to rehearse patient interactions and develop communication skills. 

A variety of tools are available for teaching our graduate nursing students the skills they will need to become Advanced Practice Registered Nurses (APRNs). For example, the wearable Avkin birthing simulator allows the standardized patient to respond realistically as if actually experiencing childbirth. Other mannequins used for teaching graduate nursing students enable endotracheal intubation and central intravenous line insertion allowing future APRNs the ability to practice the management of very complex medical and surgical cases.
---
The Simulation Process
On the day of the simulation, students interact with the standardized patient or the lifelike mannequin in the same way that they would interact with a real patient. If the simulation includes the use of high-fidelity mannequins, the mannequin's health may deteriorate or improve depending on the student's intervention. 
Students often must work together as a team using established healthcare protocols. Instructors may stop the simulation at any time to provide guidance or to challenge a student's course of action. After the simulation is over, students complete a debriefing exercise where they discuss successes and challenges, provide peer feedback, and interact regarding the details of the scenario.
---
Become a Loyola-Educated Nurse
With access to advanced technology and immersive simulation facilities, Loyola students prepare to serve their communities as practice-ready nurses. Explore our nursing programs. 
Bachelor of Science in Nursing (On-Campus) 
Undergraduate nursing students in Loyola's bachelor of science in nursing degree program start working in the simulation lab in the first semester of the second year of studies. Learn more about the pre-licensure B.S.N. program developed in partnership with Ochsner Health.
Accelerated Bachelor of Science in Nursing (Hybrid) 
Accelerated B.S.N. students begin practicing in the sim lab from their very first semester. Learn about the accelerated bachelor of science in nursing program designed for career changers who already have a bachelor's degree. 
Graduate Nursing Programs
Graduate nursing students use the sim lab to practice the skills they will need to become Advanced Practice Registered Nurses (APRNs). Explore graduate nursing programs at Loyola. 
Faculty Success
Antiqua Smart DNP, APRN, FNP-BC, PHNA-BC, a full-time assistant professor in the School of Nursing, was recently selected as a member of the inaugural National Organization of Nurse Practitioners Faculties (NONPF) Telehealth Committee. The NONPF Telehealth Committee provides national recommendations on telehealth education for nurse practitioner faculty members and nurse practitioner students.
---
See all Successes
Student Success
Dallas Lawry, DNP student, was acknowledged in the October 2020  American Association of Colleges of Nursing's GNSA bulletin as an "Emerging Leader." Dallas has been active in student governance at Loyola and a leader in Loyola University New Orleans, School of Nursing's Doctor of Nursing Practice Program. Dallas has helped organize and participated in medical mission trips with Louisiana-Himalaya Association, and worked to get other Loyola graduate students involved in a mission trip.
---
See all Successes