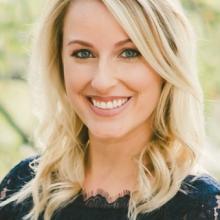 Dr. Emily Eiswirth received her DNP degree from Vanderbilt University, and a Family Nurse Practitioner from Maryville University. Her MS (Adult Nurse Practitioner concentration) and BS degrees in Nursing were completed at the Goldfarb School of Nursing at Barnes Jewish Hospital. As a nurse practitioner, she works at hospitals and medical centers caring for patients from beginning to end by completing a detailed assessment, providing a diagnosis, and creating a detailed health care plan for either an acute problem or preventative health measures. She provides counseling and education of patients and their families or caregivers regarding preventative health, treatment options and community resources. She also collaborates with physicians, patients, consultants, nurses, ancillary care providers and others as appropriate to the patients' conditions.
Dr. Eiswirth has given presentations on numerous topics including continuing education for the nurse practitioner, nursing residency programs, treating common bites and burns, osteoarthritis, weight management, and end-of-life care differences in races.
Her recent presentations include, "Evaluation of a reminder in the electronic health record to prevent catheter associated urinary tract infections" at Vanderbilt University; "Clinical Case Study: Impetigo" for pediatric and family healthcare practices at Maryville University and "Understanding Risk Management in Primary Care" at Goldfarb School of Nursing at Barnes Jewish College. Dr. Eiswirth is a current member of the Sigma Theta Tau International (STTI), the American Nurses Association (ANA), the American Association of Nurse Practitioners (AANP), and the Louisiana Association of Nurse Practitioners (LANP).
Degrees
DNP, Vanderbilt University; FNP Certificate, Maryville University; MSN - Adult Nurse Practitioner concentration, Goldfarb School of Nursing at Barnes Jewish Hospital
Classes Taught
NURS 812 Advanced Health Assessment Practicum
NURS 845 Primary Care of Adults Practicum
NURS 855 Primary Care of Adults & Women's Health Practicum
NURS 915 Evidence-Based Practice, Research Translation & Implementation Science
NURS 925 Program Planning
NURS 930 DNP Advanced Practicum I
NURS 945 DNP Advanced Practicum II
NURS 960 DNP Scholarly Project