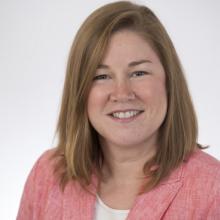 Dr. Christine Ebrahim joined the counseling department at Loyola in the fall 2008 and is currently an Associate Professor in the department. She received her M.S. degree in Counseling from Loyola University New Orleans and her Ph.D. in Counselor Education from the University of New Orleans. She is a Licensed Professional Counselor (LPC) in the state of Louisiana, a LA Board Approved Licensed Professional Counselor Supervisor (LPC-S), and a National Certified Counselor (NCC).
Dr. Ebrahim currently serves as President of the Louisiana Association of Counselor Educators and Supervisors (LACES), and is Past President of the Louisiana Counseling Association (LCA) and Past Board chair of Trinity Counseling and Training Center. She is also one of the faculty advisers of the Alpha Phi chapter of Chi Sigma Iota here in the department and sits on several departmental, college-wide and university-wide committees. She regularly presents with students and other faculty members at both state and national conferences on the topics of ethical considerations, counselor preparation and training, and work/life balance issues. She regularly runs workshops for school students, teachers, and parents on the topics of internet safety, bullying issues, and non-shaming discipline. 
Dr. Ebrahim has received several awards from Loyola, UNO, LACES and the American Counseling Association for teaching, advising, supervision and leadership. She was also honored as one of New Orleans City Business' Women of the Year for her volunteer work and work in counselor education. Dr. Ebrahim has experience as a Professional School Counselor, is currently a school counseling program consultant and has a private practice specializing in adolescents and young adults. Dr. Ebrahim's research interests are in the areas of professional school counselor preparation, the use of play therapy by school counselors, supervision, legal and ethical issues, and peer consultation.
Degrees
Ph.D., University of New Orleans, 2008; M.S., Loyola University New Orleans, 2004
Classes Taught
Group Counseling
Counseling Theories
Ethics in Counseling
Counseling Practicum
Counseling Internship
Introduction to Supervision
Measurement and Assessment
School Counseling
Fundamentals of Practicum and Internship
Areas of Expertise
School Counselor Preparation, Use of Play Therapy by School Counselors, Supervision, and Peer Consultation.