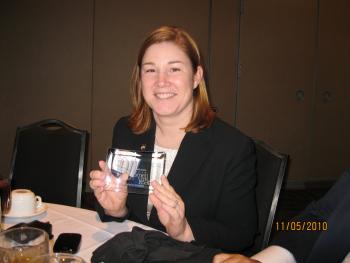 Loyola University New Orleans' Christine H. Ebrahim, '04, Ph.D., assistant professor in the Department of Counseling and the Director of the School Counseling Graduate Program, has been chosen as one of New Orleans CityBusiness' 2010 Women of the Year.
Ebrahim is one of 50 local women who will be honored at a luncheon today, Friday, Nov. 5. She says she is "honored and humbled to be considered part of such a distinguished and accomplished group of professionals." The New Orleans Women of the Year honors women of the greater New Orleans area who make significant contributions to the community through their leadership and accomplishments and inspire excellence in their professional disciplines.
Ebrahim received a master of science degree from Loyola in 2004 and a doctorate in counselor education from the University of New Orleans in 2008. She is a Licensed Professional Counselor in the state of Louisiana, a Licensed Professional Counselor Supervisor and a National Certified Counselor.
She is the immediate past president of the Louisiana Association of Counselor Educators and Supervisors and is one of the faculty advisers of the Alpha Phi chapter of Chi Sigma Iota, the international honor society dedicated to promoting excellence in the profession of counseling. She has presented at state and national conferences and runs area workshops.
In December of 2008, she was honored as the University of New Orleans Outstanding Doctoral Graduate, and in May of the following year, she received the UNO Department of Educational Leadership, Counseling, and Foundations Faculty Award. Ebrahim has experience as a professional school counselor, is currently a school counseling program consultant and has a private practice. Ebrahim's research interests are in the areas of professional school counselor preparation, the use of play therapy by school counselors, supervision, legal and ethical issues, and peer consultation.