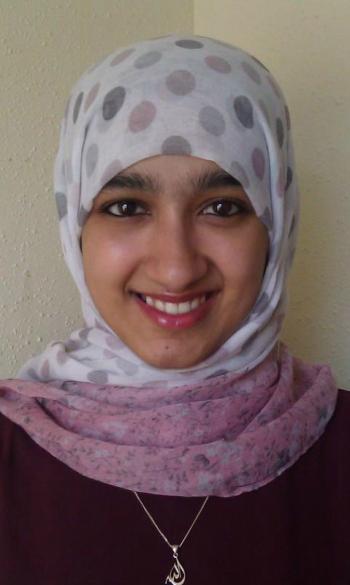 Nasima Khan, currently pursuing a MS in Counseling, has been awarded this year's International Student Scholarship. The scholarship is awarded each year to a student in F-1 status, with a 3.0 minimum grade point average who has demonstrated significant contributions to cultural understanding and awareness at Loyola. Financial need and academic merit are also considered. The recipient is selected by a committee of faculty, staff and students.
Nasima has only been at Loyola since August, but she has already managed to make a big impact both in and out of the classroom. In the classroom, Nasima stands out as an exceptional student. As one of her professors states, "Since entering our program in 2012 she has consistently established herself as a valuable member of her academic cohort. She has maintained a 4.0 grade point average and consistently displays excellence in the classroom."  She has also contributed academically to her program by getting involved in a student-faculty collaborative effort aimed at evaluating and recreating the curriculum in her department. And, Nasima has been very actively involved in a weekly inter-faith religious forum and dialogue dedicated to increasing religious and cultural understanding in her program and at Loyola.
Nasima's multicultural background has helped her facilitate these discussions. As Nasima says, "My life experiences, international travels, and multilingual upbringing have shaped my identity and given me a globalized perspective which I actively share with the campus community."  She was born and raised in London, which is where her parents migrated following their departure from Bangladesh shortly after a civil war. In addition, she is married to a American Pakistani, which has helped to broaden her viewpoint of other traditions. Aside from English, Nasima speaks Bengali fluently and can communicate in Arabic and Urdu. She has lived in Ireland for two years and traveled extensively throughout Europe, North America, and South Asia.  Nasima is also an active member of the Loyola chapter of Active Minds, an organization dedicated to raising awareness of issues related to mental health on college campuses nationwide.  
Above all, it is Nasima's way of interacting with others that has perhaps made the greatest impact. As one of her professors states,  "Nasima interacts with students and faculty in a way that encourages open conversation regarding her socio-religious background. Additionally, she displays respectful curiosity of those different from herself, often turning what begins as a brief encounter into a meaningful and enriching experience."
While Nasima has excelled during her time at Loyola, she has had some financial difficulties due to restrictions placed on international students in the U.S. She is not able to work off campus and, as an international student, she does not qualify for financial aid from the U.S. government.  The Center for International Education is very happy to award the International Student Scholarship in the amount of $750 to Nasima Khan.