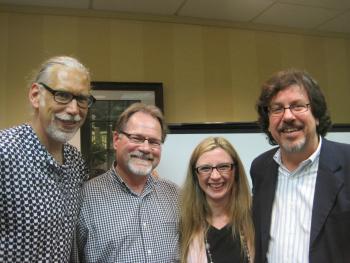 Title:  An Introduction to MFTs and Their Role as a Therapist in the Mental Health Community
Presenters:  Eddie Parish, PhD, Jana Sutton, PhD, Frank Thomas, PhD, and Tim Dwyer, PhD
Summary (by Alison Phillips):  As a student attendee of the workshop presented by Dr. Dwyer and colleagues, I was impressed with the energy and passion all four presenters displayed for Marriage and Family Therapy and Systems Theory.  They shared many pieces of wisdom from their collective years of experience.  I learned that taking a systems theory approach means trying to understand a client not simply as an individual, but also in the wider context of their constellation of relationships – such as family, friends, work, and faith communities.  A counselor should ask him/herself, "How does this client and his or her behavior make sense given everything else that is happening in his or her life?"  Once a counselor understands the client's world-view, then he can help the client make sense of it.  All four emphasized that it is important to not make assumptions about a client.  They gave special advice to novice counselors, which included:
1. There's no such thing as the perfect session.
2. Techniques are what you use until the real therapist shows up.  Techniques are usually used to help the counselor manage his/her own anxiety.
3. As you gain experience as a counselor, you learn to tolerate anxiety and uncertainty within a session better.
4. Don't act artificially.  Be transparent.  It's okay to tell your client, "I may not be able to help, but I will try."
5. Your first years as a counselor will be difficult, so don't forget to care for yourself by doing the things that "water your soul."