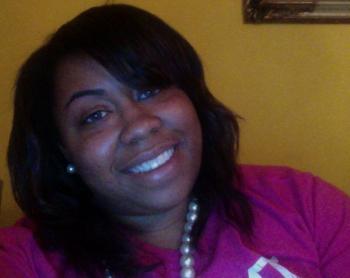 Viveca Johnson is graduating in May of this year and looking forward to starting her career as a counselor. I spoke to her about her hopes for the future and her advice for new students.
Alison (A): What are you most looking forward to about graduating, and what are you most afraid of?
Viveca (V): What I'm most looking forward to is definitely practicing. I am only looking for jobs where I can do therapy, and if I can't do it, then I don't want the position. I feel like I am equipped with these skills and I want to put them to work. The fear part is being a novice in it and feeling like, "Am I competent enough?" I feel like I'm just now getting really immersed in my theory (Adlerian), which has been a blessing, but I wish that I had been able to identify with a theory earlier in the program.
What are your plans for the future? Five years from now? Ten years from now?
V: I can definitely see myself in private practice. I'm not sure where I will be, because I'm open to moving. It might be Baton Rouge or Atlanta or D.C. In five years, I definitely want to have my license and I would like to be venturing into a group private practice. I have been talking with several fellow students about the idea of starting a private practice together with the various specialties we have.
A: What population do you like working with the most and why?
V: I like working with couples the most because it's so fascinating. Love is and always has been such a mystery. Love can be difficult to explain or put into words but you can definitely feel it. No one knows why couples fall in love, but it is so powerful. I can still see it even in couples who are having major problems, and I call it my "light of hope."
A: What's the most frustrating part about working with couples?
V: When I see one partner putting another down and not letting the therapy room to be a safe space that is hard.
A: What is the most important piece of wisdom you learned in a class?
V: My two favorite classes were Family Systems and Multicultural Counseling. In Family Systems, Dr. Levitov emphasized that no one wants to be bad at something. For example, nobody sets out to be a bad parent. We are the way we are because that's the example we have been shown. We are the way we are because of our system. The class allowed me to have more compassion for others and even members of my own family. 
A: What advice do you have for students just starting the program?
V: I have two pieces of advice. First, make friends with your fellow students in this program. A lot of times I will reach out to a friend in the program to consult with first before I even ask my supervisor. There are a lot of really smart people in this program and it's so great to be able to get their perspective and advice. In addition, I think it's really important to go above and beyond coursework, reading everything that you possibly can about a theory or topic. There's so much to learn beyond what we can possibly fit into a class.
Interview by Alison Phillips.