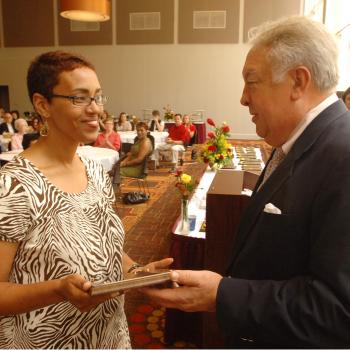 Carmen Balthazar '08 was awarded the Regina Mathews Oehmig Award for Excellence in Counseling at the 2009 College of Social Sciences Award Ceremony. Carmen was honored for her enthusiasm for scholarly activities while maintaining a dedication to family, life, and living, and a demonstration of providing service to others with a compassion for and faith in humanity.
The award is named after Regina Mathews, who died suddenly during the spring 2009 semester.  Because Regina embodied so many of the traits the Department of Counseling looks for in an honor recipient, the Department's faculty decided to name an award in her honor.
Carmen was chosen because she has been a leader in the counseling program academically, professionally, and personally. She completed her coursework while working full time on Loyola University's campus and as a full time mom.  Carmen has made a lasting impression on the faculty and her classmates through her great capacity for giving and commitment to helping.  In her work with Family Services, she provided excellent counseling services to individuals, families, and children, who would have otherwise been unable to afford counseling, and she received excellent remarks from her internship supervisors.