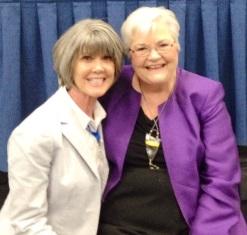 While attending the American Nephrology Nurses Association's annual meeting during spring break, nursing student JoAnn Otts had the opportunity to meet the keynote speaker, none other than nursing theorist Dr. Patricia Benner, best known for her "From Novice to Expert" theory.
Dr Patricia Benner introduced the "From Novice to Expert" concept that expert nurses develop skills and understanding of patient care over time through a sound educational base as well as a multitude of experiences.
She further explains that the development of knowledge in applied disciplines such as medicine and nursing is composed of the extension of practical knowledge (know how) through research and the characterization and understanding of the "know how" of clinical experience. She coneptualizes in her writing about nursing skills as experience is a prerequisite for becoming an expert.