Group counseling sessions provide individuals the chance to work through mental health issues in a supportive group. Group sessions are led by a team of two therapists in a safe and confidential setting. See specific group descriptions below for details on appropriate ages, topics, and dates. Prices are determined on a sliding scale with no one turned away for lack of funds. Appointments can be made by calling (504) 864-7858 or by emailing LCCE@loyno.edu; call for a free and confidential phone consultation.
---
Coping with the Chaos of the Moment
Therapeutic support group for adults (18+) looking to reflect, connect, grow, and cultivate safety within.
Guided by Sarah Zoghbi and Liora Diamond.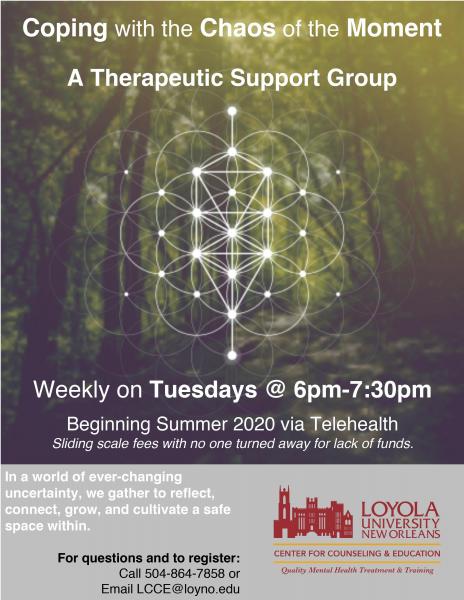 Mindful Relationships Therapy Group
Interpersonal process and therapeutic growth group for adults (18+) looking to explore and improve their relationship patterns.
Monday night group (5:30-7:00 PM) guided by Renée Floer & Tyler Jones. 
Thursday night group (5:30-7:00 PM) guided by Callie Millington & Dylan Kolesa.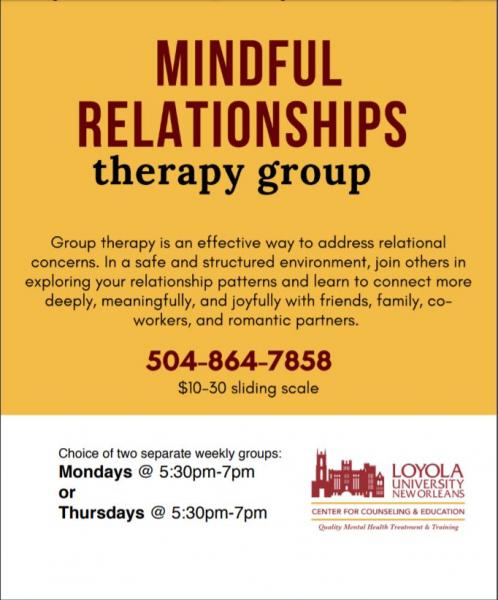 Parenting After Incarceration
Child-Parent Relationship therapy group for parents who are transitioning out of incarceration and seeking to enhance relationships with their children.
Guided by Nikki Piazza and Soren Ramsey.
Remote Schooling During the Pandemic
Therapeutic support group for parents seeking strategies, structure, and support as they navigate remote schooling during the pandemic.