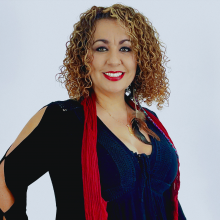 Sarah Zoghbi is a Licensed Professional Counselor and internationally trained psychotherapist who provides a psychodynamic approach to therapy and incorporates various ancient and holistic practices for healing the mind, body, and spirit. She has studied in institutions including Loyola University New Orleans, Touro College Berlin, Louisiana State University, and University of Oklahoma. She is certified in psychedelic integration therapy by Fluence and certified in aromatherapy by the Atlantic Institute of Aromatherapy. While living in Hawaii, Sarah trained in mindfulness, breathwork, eco-therapy, and naturopathic lifestyles, and while living in Germany she trained in shamanic drum journey work and in autogenic hypnosis relaxation training. Her first career was in theatre arts design and direction and she's studied with many teachers of meditation and ceremonial practices.
In 2020 Sarah was honored with Loyola's Ignatian Award and New Orleans' 40 Under 40 award for her work in mind-body-spirit innovative care, including publishing research on community activity groups she directed as mental health care for creatives as well as co-founding and directing Loyola University New Orleans Center for Counseling & Education, where she continues to serve as chair of the advisory board.
Sarah works with her clients to cultivate a significant trusting relationship and safe space to welcome honesty with oneself, illuminate depths of consciousness, and explore new ways of being. Depending on individual needs, clients may agree to utilize any number of  holistic healing modalities including: ketamine assisted psychotherapy, psychedelic integration therapy, aromatherapy, shamanic journeys, autogenic hypnosis relaxation training, mindfulness, meditation, breathwork, naturopathic lifestyle psycho-education and/or expressive arts therapies. 
Sarah treats adults (individuals and groups) experiencing a range of personal and interpersonal issues including trauma & complex trauma, emotional instability, anxiety, depression, identity development, relationships & life transitions, and compulsive behaviors including substance dependence. She specializes in psychedelic integration therapy, a non-stigmatizing harm-reduction approach to preparing for psychedelic journeys, processing difficult experiences, and integrating insight from non-ordinary states of consciousness into daily life. 
Sarah primarily sees clients in her private practice, PSYCHEvolve LLC at Spyre Center in New Orleans. Sarah is also a trainer on faculty with Fluence (professional education in psychedelic-assisted psychotherapy and integration).