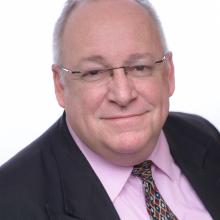 Career Highlights:
Robert Wood Johnson Foundation, Executive Nurse Fellows Program
37 years nursing, 32 years leadership in home health care and health policy
Co-founder of Certificate for OASIS Specialist - Clinical (COS-C) exam
Dr. Warren Hebert, (pronounced in French, a-bear), entered the nursing profession in 1979 with a Diploma from Charity Hospital School of Nursing. Dr. Hebert has worked in home health care since 1985. His scholarly interests are in family caregiving, transcultural care, health policy, home care, and leadership. In 2014, he led a group of home health professionals to northern India to observe aging, family caregiving, and end-of-life care in Tibetan Buddhist communities.
Dr. Hebert's health policy experiences have included congressional and state legislative lobbying as well as a:
Technical Expert Panelist on a Centers for Medicare & Medicaid Services (CMS) project for prevention of unnecessary hospital readmissions
Reviewer for the Institute of Medicine's Future of Home Health workshop
Grant Reviewer for the Centers for Medicare and Medicaid Innovation (CMMI)
Chair of Louisiana Legislature's Study Group on Chronic Care Management
Chair of Region 4 Health Care Consortium
Chair of Louisiana Rehabilitation Council
Dr. Hebert cofounded the nationwide Certificate for OASIS-Clinical (COS-C) exam, which has tested over 10,000 home-care professionals. He cofounded and was founding Chair of the Council of State Home Care Associations. He is a founding partner and Chief Innovation Officer for National Home Health Analytics. He served on the Editorial Board for Home Healthcare Nurse journal and the board of the National Association for Home Care. Hebert has been staff lead for the Home Care Association of Louisiana since 1998. Dr. Hebert presents nationally on family caregiving, disaster preparedness and response, and analytics in health policy and advocacy.
Dr. Hebert currently serves as Secretary of the Board of Community Health Accreditation Partners (CHAP) — which accredits more home health and hospice providers than Joint Commission. Hebert is a Senior Advisor to the Chief Nurse of the American Red Cross. Warren is Secretary of the Board for the Advocacy Center of Louisiana, the state's federally funded protection and advocacy organization that protects legal rights of those with disabilities and issues around aging. He serves in other state and national leadership positions and hosts a weekly radio program/podcast, Family Caregiving, broadcast in seven states and on the web on Radio Maria U.S.
"When I entered Loyola to pursue a BSN at age 51, classmates, faculty, and staff of the School of Nursing all provided a challenging, yet safe space for this older adult learner. Serving as an Assistant Professor at Loyola provides an opportunity to sustain and build upon Loyola's legacy of support and success for the nursing students I teach and advise."
Dr. Hebert's favorite educational philosophy is the Groome Method, an educational theory he learned of in pastoral ministry. "Boston College's Thomas Groome's approach to adult education recognizes the adult learner comes to formal education already having had life experience and expertise. The Groome method honors and draws from that experience as adult learners seek to build upon their existing foundation. This approach lends itself to graduate nursing education. We are all one another's teachers."
Degrees
DNP - Executive Leadership, Loyola University of New Orleans; MSN, Health Care Systems Management, Loyola University of New Orleans; BSN, Loyola University of New Orleans
Classes Taught
NURS 740 Health Care Systems
NURS 703 Theories in Health Care Systems
NURS 752 Health Care Systems Practicum