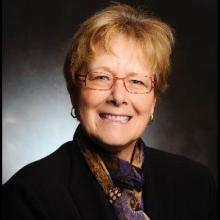 Dr. Pearce has had a lengthy and positive career in nursing. Her clinical background is extensive, and research interests are in qualitative, quantitative, and mixed method research, and in working with evidence- based practice. Dr. Pearce also has interest and experience in information management, and heightening usability of techniques and tools for effective and efficient practice, education, research, and health policy. She has precepted, taught and mentored staff nurses, faculty, nurse practitioners, and BSN, MSN, DNP, and PhD students; has completed numerous presentations at local through international venues; and has published extensively. She has served on and led too-many-to-count committees within the university, as well as in state and national nursing organizations.
Her educational background includes degrees from Loyola University New Orleans (BA-History; BSN), Master in Public Health from Tulane University School of Public Health & Tropical Medicine, Masters in Nursing from Mississippi University for Women, and PhD in Nursing, with minor in Information Science from University of North Carolina at Chapel Hill. She lived in New Orleans from 1976 through 1999, left to complete her PhD in North Carolina, moved to Salt Lake City and then Alabama, returning to New Orleans in 2012.
Dr. Pearce teaches Master's and DNP students, has served as the DNP Coordinator, Interim Director of the School of Nursing, and as the Interim Dean of the College of Graduate and Professional Studies at Loyola University New Orleans. She is currently teaching part-time in the School of Nursing.
Degrees
MPH, PhD, FNP-BC, FAANP, FNAP