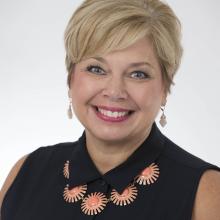 Dr. Jeannie Harper received her PhD in Adult Education from Louisiana State University, her MSN in Nursing Education, and her BSN from Southeastern Louisiana University. Her nursing career and current research focuses on women's health and obstetrics. She's been an instructor since 1993, including teaching at the SLU School of Nursing since 2000, where she was consistently awarded the honor of class mentor. Dr. Harper has extensive experience teaching undergraduate BSN students on all levels, and graduate courses relating to nursing theory, research, and education. She was an adjunct instructor at Loyola for several years, and is now an assistant professor full-time.
Dr. Harper is working with others on research topics. She most recently assisted a doctoral student in completing her practicum capstone project relating to the multi-disciplinary approach in managing obstetric emergencies through the use of simulation. She has also served on several committees for graduate students completing scholarly projects or theses relating to obstetric nursing. Other research projects include Nurses Attitudes in Caring for Natural Laboring Patients, The Experience of Students, Faculty, and Graduates from a Second Degree Baccalaureate Nursing Program, as well as a follow-up project on recovering mothers and newborns together after cesarean birth.
She is a long-standing member of AWHONN — Association of Women's Health, Obstetric and Neonatal Nursing, and a board member of Sigma Theta Tau International Honor Society for Nursing — Rho Zeta Chapter for SLU in Baton Rouge. She also offers her professional services as an abstract reviewer for Connie Logan Research Day.
Dr. Harper has recently presented on: Educational Theories for Use in the Classroom to the SLU staff; OMG! Did you see THAT on Facebook? to the Woman's Hospital for CE Day of Learning; Evidence Based Practice: Keeping Mothers and Newborns Together After Cesarean Birth, to the Rho Zeta Chapter of STTI, and So You Think You Want to Be a Nurse, to high-school students at the SLU Livingston Center.
Degrees
PhD - Adult Education, Louisiana State University; MSN, Southeastern Louisiana University; BSN, Southeastern Louisiana University
Classes Taught
NURS 724 Outcomes Measurement & Data Management
NURS 703 Theories in Health Care Systems
NURS 732 Population Health Management
NURS 711 Informatics
NURS 735 Advanced Research Methods
NURS 752 Health Care Systems Management Practicum
NURS 379 Nursing Leadership and Promotion of Quality Care