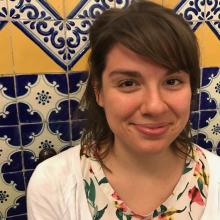 Katherine (she/her) believes counseling can help you form better relationships and create solutions to problems. It can also increase your sense of purpose and self-esteem, and build mental, emotional, and spiritual wellness. She wants to help you reach your goals by creating a safe space of unconditional acceptance and support where you can confidentially discuss anything you like. Apart from her studies in the Loyola Master of Science in Marriage, Relationship, & Family Counseling program, for the last decade she has assisted governments in designing better public services, including mental health services. She speaks English and Spanish and has lived and worked in several different countries.
She takes a multicultural approach by tailoring sessions to each client's cultural background, including race and ethnicity, gender and sexual identity (including LGBTQIA+ identities), and socioeconomic background. As a systems therapist, she helps clients explore their role as a member of their family, friend groups, and community. Systems counseling can help individuals improve their relationships with friends and family and address specific problems. It can also aid partners in relationship and marriage counseling in working through concerns like arguments, financial issues, and intimacy/sexual problems.
Katherine works with individuals, partners, and families. Though she provides support for a wide range of issues, her core interests include relationships, trauma, anxiety, depression, eating disorders, and obsessive-compulsiveness and other personality disorders. Her goal is to provide clients with high-quality, customized care to help them work through issues and achieve a sense of peace and well-being. She is honored to support you on your path towards improved mental health.
[Spanish]
Katherine (usa pronombre ella) cree que la terapia ayuda a cultivar mejores relaciones y encontrar soluciones a los problemas, además de aumentar el autoestima y fomentar el bienestar mental, emocional y espiritual. Quiere ayudarle a alcanzar sus metas creando un espacio seguro de apoyo incondicional donde pueda hablar de manera confidencial sobre lo que quiera. Además de sus estudios en la Maestría de Terapia Matrimonial y de Relaciones Familiares de Loyola, durante la última década ha ayudado a los gobiernos a diseñar mejores servicios públicos, incluidos los servicios de salud mental. Habla inglés y español y ha vivido y trabajado en varios países diferentes.
Utiliza un enfoque multicultural adaptando las sesiones a los antecedentes culturales de cada cliente, incluyendo la etnia, el género y la identidad sexual (incluidas las identidades LGBTQIA+) y el entorno socioeconómico. Como terapeuta sistémica, ayuda a los clientes a explorar su papel como miembro de su familia, grupos de amigos y comunidad. La terapia de sistemas ayuda a mejorar las relaciones con amigos y familiares y abordar problemas específicos. También ayuda a las parejas a resolver inquietudes como discusiones, dificultades financieras y problemas sexuales/de intimidad.
Katherine atiende a individuos, parejas y familias. Aunque brinda apoyo para una amplia gama de temas, sus principales intereses incluyen las relaciones, trauma, ansiedad, depresión, trastornos alimentarios y trastornos de la personalidad como el trastorno obsesivo-compulsivo. Su meta es brindar a los clientes una atención personalizada y de alta calidad que les ayude a resolver sus problemas y lograr una sensación de paz y bienestar. Es un honor para ella apoyarle en su camino hacia una mejor salud mental.